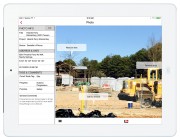 With Expanded Executive Team and Existing Cloud Partners, FotoIN Continues to Lead the Charge in Harnessing the Power of Enterprise Photo Documentation.
Atlanta, Georgia, September 29, 2015 (Newswire.com) - ​Photo documentation continues to gain relevance across field heavy industries and FotoIN Mobile Corporation (FotoIN) continues to grow traction across Construction and Property Management industries on their mission to become the #1 global provider of visual documentation solutions to Enterprises.
FotoIN continues to land construction company accounts, speaking platforms at key nationally recognized events and a high-level certification from a leading cloud content management company.
"The trend is clear and present, workers are mobile and when they're out in the field, they require tools that are easy to use and keep them focused on the job at hand. On the other end, IT is tasked with arming the field with highly secure technologies that automate processes, integrate seamlessly with current systems in place, and provide real-time insights into the business so management can pro-actively take action." Ryan Martin, FotoIN's new Chief Revenue Officer explains. "That's what FotoIN enables around the historically arduous photo documentation process, and I couldn't be more excited about the opportunity before us and the success we're delivering to our customers."
Ryan, an industry sales veteran, comes from Box where he started building the Platform Sales team and before that he built the Global ISV and Partner sales program at Salesforce. With his addition, FotoIN also gets a presence in San Francisco and the Silicon Valley.
In addition to Ryan, Mike Shutt also joined as the new Chief Technology Officer earlier this year, and the company expanded the development team in Croatia with additional talent with great development experience including E-bay/PayPal, HR Cloud, etc.
Mike is a former co-founder and inventor of a mortgage processing technology and platform at Advectis which was acquired by Xerox, where he stayed on as a technology executive. In addition to a wealth of technology leadership experience and building a successful venture, Mike also holds 2 patents.
Mike added: "This is an exciting opportunity to combine established and easy to use technology with emerging platforms and capabilities to enable significant benefits to workers in the field. Making visual documentation easy to capture, more accessible, and complimentary to existing systems through an open architecture provides immediate and obvious value to our customers."
Other Recent FotoIN Achievements Include:
FotoIN Selected to Present at Venture Atlanta 2015 - FotoIN today announces that it has been selected as a presenter at Venture Atlanta 2015, Georgia's premier event connecting technology innovation and investment capital, to be held October 20-21 at the Georgia Aquarium. The 32 early and later stage companies chosen to present reflect a wide range of technologies and diverse markets, while highlighting the innovation of Georgia businesses. Presenting companies highlight strength of Georgia's technology community and further position the state as a hotbed of entrepreneurial activity and innovation.
Now entering its 14th year, Venture Atlanta has helped local companies raise more than $1.4 billion – a number that continues to grow. The conference provides an invaluable experience for entrepreneurs, resulting in funding, national investor exposure, unparalleled relationship building, and mentoring by successful technology executives.
"This year's roster of presenting companies promises to be one of the most exciting we've seen since Venture Atlanta's inception," said Bill Nussey, CEO of Silverpop, an IBM Company, and Venture Atlanta board member. "Conference attendees will have the opportunity to hear from top local companies spanning different industries - offering a direct glimpse of the vibrance and progression of the Atlanta startup and venture market."
FotoIN Makes Box Assured Apps Short List – The Box Assured Program assessed the enterprise-readiness of FotoIN in the Box app eco system, ensuring that it met a series of critical industry security and privacy requirements. Through the program, Box accelerates the adoption of business and productivity apps for customers by expediting the security evaluation process for IT teams and helps get the right apps in the hands of employees.
Growth in the Construction Industry – Company continues to land projects across the Construction industry with their Easy, Actionable and Open photo documentation technology. FotoIN recently exhibited at the Willis Group risk Management in Construction conference in Nashville and presented automated photo documentation technology as a Risk Management tool. Company continues to attend AGC and ABC events in the Southeast and is attending the BoxWorks Sept 28th-30th.
Speaking of plans for Q4, Sly Barisic, the CEO, comments about upcoming Enterprise launch: "We are working hard to formally launch the Enterprise version in construction and go deeper in the inspection space with upgraded field reporting functionality and other options. We continue to listen to our customers and identify what is required to take the technology to the next level of value creation, especially when it comes to the Enterprise space. There will be more options and integrations, but mainly additional flexibility in configuration and permissions that are essential for easier management on the Enterprise level." He concludes: "We are also continuing to work with our partners to deliver more value to shared customers by augmenting the basic integrations with more workflow functionality."
About FotoIN
FotoIN is the leading provider of photo documentation solutions to businesses. FotoIN makes it easy to create actionable photo documentation by leveraging automation and embedded content metadata, and openly integrating with other complementary technologies and solutions, such as Box, Egnyte and ShareFile. The solution increases productivity and collaboration across the business in a wide range of industries including construction, property management, real estate, and insurance. Free mobile app is available for download in Apple's App Store and on Google Play. For more information, visit www.fotoin.com or follow us on Twitter and LinkedIn.
About Venture Atlanta
Venture Atlanta, Georgia's technology innovation event, is where the state's best technology innovators meet the country's top-tier investors. As the region's largest investor showcase, Venture Atlanta connects local entrepreneurs with venture capitalists, bankers, angel investors and others who can help them raise the capital they need to grow their businesses. The annual non-profit event is a collaboration of three leading Georgia business organizations: Atlanta CEO Council, Metro Atlanta Chamber and the Technology Association of Georgia (TAG). For more information, visit www.ventureatlanta.org.
Share: